SNOW PLOWING & SNOW REMOVAL FOR COMMERCIAL PROPERTIES
About Best Snow Plowing Minneapolis & St. Paul
Best Snow Plowing understands the importance of keeping the commercial property free from snow and ice. Best Snow Plowing understands that business owners and managers have enough to worry about, without having to deal with the dangers of icy sidewalks, parking lots, and driveways. We are proud to offer professional snow removal services in Minneapolis, St. Paul.
Best Snow Plowing was established in 2010 and has been serving the Twin Cities for more than a decade. Our team is made up of highly skilled professionals who are equipped to quickly and efficiently clear your property of snow and ice. We use the most up-to-date plows, shovels, and deicing products to make sure that your driveways, parking lots, and sidewalks are clear for your employees, customers, and visitors.
We know that every commercial property is different when it comes to snow removal. We offer custom plans that will meet your budget and specific needs. We have a plan that will suit your needs, whether you need us to clear your property every morning or once a week. We offer 24/7 monitoring and emergency service, so we can respond immediately to any snowfall, making sure your property is always safe and clear.
We offer snow removal services, as well as other winter-related services that will help you keep your property safe. These include:
Salt and Sand Deicing: This is a combination of salt, sand, and gravel that provides extra traction for your driveways, parking lots, and sidewalks. It makes your business safer for your employees, customers, and visitors.
Snow hauling: We can haul away any snow you have on your property.
Ice dam removal: When the snow melts and refreezes, it can create dangerous ice dams on your roof. Our team is trained in safely removing these dams to protect your property.
You can also rest assured that your property is fully insured and bonded. Our team is available 24/7 for any snow or ice emergency.
Our goal at Best Snow Plowing is to provide the best service possible for our customers. We will make sure your property is accessible, safe, and free from snow and ice. Call us today to arrange commercial snow removal or to learn more about other winter-related services. Let us do the heavy lifting so that you can concentrate on your business.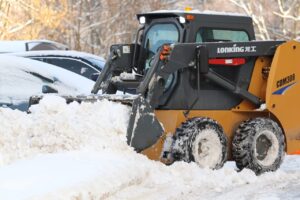 OUR SERVICE AREA
We service all of Minneapolis, St. Paul, and the surrounding region within 75 miles.

We maintain all licenses and insurance.

We always provide 100% customer satisfaction.

Our team really are professionals and understand all aspects of snow removal for commercial properties. We will work to ensure your project is done to your satisfaction. Give us a call today to schedule a FREE onsite estimate!