Medical Offices Snow Removal & Plowing
For the safety of your patients, staff, and visitors, it is essential that your parking lot, sidewalks, and entrances are clear of snow and ice. A snowy or icy medical office can pose a serious risk and deter patients from visiting it. We are proud to offer professional snow plowing services in Minneapolis and St. Paul.
Our experienced team is equipped with the most recent tools and equipment to ensure your medical office is free from snow and ice quickly. Our team uses state-of-the-art shovels, plows, and deicing products to make sure that your parking lot, sidewalks, and entrances are clear for patients, employees, visitors, and others.
We Know How To Handle Snow Plowing in Medical Office Building Complexes!
We know that every medical office has unique needs when it comes to snow plowing. We offer custom snow plowing plans that will fit your budget and specific needs. We have a plan that will suit your needs, whether you need us to plow your sidewalks and parking lot once a week or every morning. We offer 24/7 monitoring and emergency service, so we can respond immediately to any snowfall, keeping your medical office safe and secure. We also have great experience in retail store snow plowing.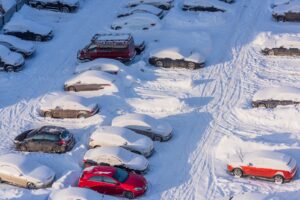 Safety & Professional Skills
We understand how important it is to keep your medical office open and functional, even in snowy weather. We work closely with you to create a snow plowing program that suits your needs and doesn't disrupt your patients' appointments. Our team is also skilled in working around cars, delivery trucks, and other obstacles so that your medical office will be free from any damage.
You can also rest assured that your property is fully insured and bonded. Our team is available 24/7 for any snow or ice emergency.
We Offer Other Winter Services That Will Keep Your Employees and Patients Safe.
Salt and Sand Deicing: This is a combination of salt, sand, and gravel that provides extra traction for your parking lot, sidewalks, or entrances. It makes it safer for your employees, patients, and visitors.
Snow hauling: We can haul away any snow from your medical offices.
Ice dam removal: When snow melts and refreezes, it can create dangerous ice dams on your roof. Our team is trained in safely removing these dams to protect your property.
Clearing the exit and entrance: We will ensure that your medical office is always safe for patients, employees, and visitors.
Avoid letting the snow and ice ruin your office building this winter. We will keep your parking lot, sidewalks, common areas, and roads are safe and clear. We offer flexible scheduling options and competitive rates to meet your needs. Call us today to book your office building's snow removal service or to learn more about other winter-related services. We are committed to providing the best snow plowing services available in Minneapolis and St. Paul so that your office building remains open.
Service Area
Best Snow Plowing services all of Minneapolis, St. Paul, and the surrounding region within 75 miles.

We maintain all licenses and insurance.

We always provide 100% customer satisfaction.

Our team really are professionals and understand all aspects of snow removal for commercial properties. We will work to ensure your project is done to your satisfaction. Give us a call today to schedule a FREE onsite estimate!
Express Quote Request